Naloxone in Ontario Workplace Overview  
Effective June 1, 2023, employers must provide naloxone at work if certain conditions specified in the Occupational Health and Safety Act apply. Eligible employers can participate in the Workplace Naloxone Program and receive free training for two employees and one nasal spray naloxone kit per workplace for a limited time. If your workplace requires additional employees to be trained, the Canadian Red Cross is offering the Ontario WNP course at $30.00 per person (naloxone kit not included). Sign up here to purchase additional training.
Opioids are a group of drugs that bond with opioid receptors in the brain, slowing down the central nervous system. Common opioids include morphine, heroin, oxycodone, fentanyl, codeine, and hydromorphone. They are commonly prescribed by medical professionals to manage pain from surgery, cancer, chronic pain, and coughs. However, opioids are sometimes used in dosages not prescribed or by people who don't have a prescription. There are also opioids of unknown strength and quality made and sold illegally. Regardless of the cause of opioid poisoning, naloxone can help reverse its effects. 

About the Training 

Learn how to respond to an opioid poisoning emergency and administer nasal naloxone with the ON Workplace Naloxone – First Aid for Opioid Poisoning Emergencies Course. Gain knowledge about opioids and naloxone's effects on the body and explore methods to minimize stigma. 
After completing the online training, registered workers will automatically receive a free nasal spray naloxone kit shipped to their registered workplace.
Who Should Take this Course?
Ontario-based employees registered with their workplace to participate in the Workplace Naloxone Program to meet provincial requirements under the Occupational Health and Safety Act (OHSA) and the Working for Workers Act (Bill 88). 
This course has no prerequisites, and it is an online self-directed course. Participants learn at their own pace by working through the training materials independently online. Duration: approximately 60 minutes, depending on the individual. 
Why Register for the Ontario Workplace Naloxone Program with the Canadian Red Cross?

Course delivery is online and self-directed for flexibility and convenience. No appointment is needed.
A digital certificate for each employee is provided at course completion.
Courses offered in English and French.
Course is compliant with the Accessibility for Ontarians with Disabilities Act (AODA).
When the registered workers have completed the training, a free nasal naloxone kit is shipped automatically to the registered workplace to add to the workplace first aid kit or first aid station.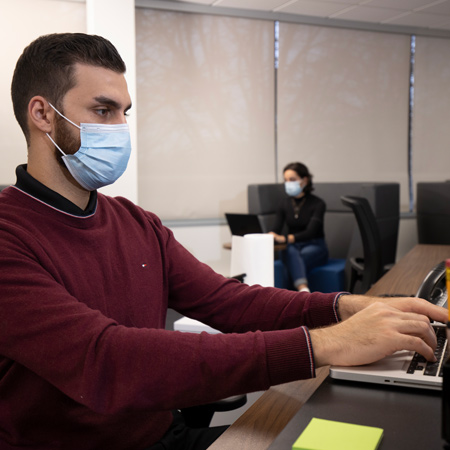 How to Get Started

Employers can access free training and naloxone kits for the workplace in four easy steps:
1. Employer will complete an application form and register up to two employees for free training*.
2. Registered employees will receive course coupon code(s) which will allow them to enrol in the online course for free. Employees will need to use the coupon code to avoid being charged the course fee.
3. Registered employees will start the self-directed course at their convenience and will receive a digital certificate upon completion.
4. A naloxone kit will be shipped to the registered workplace once the employees have completed the course.
*If the workplace does not require employees to be trained, the employer can request a free naloxone kit in the application form and will be required to complete an attestation that training is not required.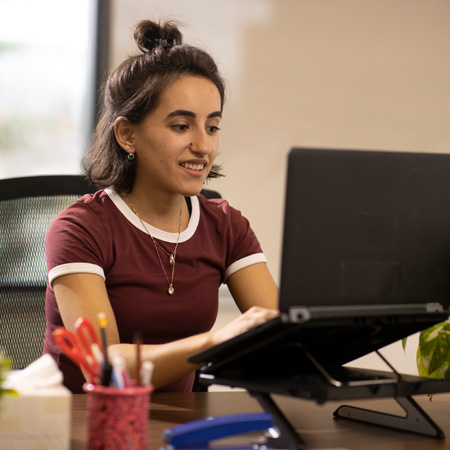 A Lifesaving Intervention for Opioid Poisoning Emergencies in the Workplace 

Naloxone is a fast-acting medication that temporarily reverses the effects of opioid poisoning. It can be administered through injection or nasal spray. Naloxone is a safe medication that only works if opioids are present.
Administering naloxone will not hurt the person if their condition is not caused by opioid poisoning. In some cases, naloxone may induce withdrawal, which, while uncomfortable, is not usually life-threatening.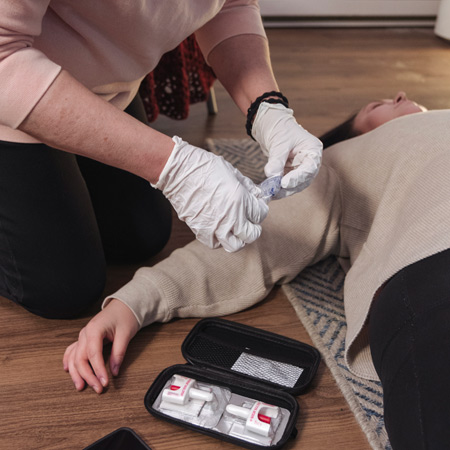 How Many Naloxone Kits Should an Employer in Ontario Have?

Employers must provide at least one naloxone kit in workplaces where they know or should be aware of the risk of worker opioid poisoning. They aren't required to provide a kit where no risk exists, such as in a separate location with no known risk.

The OHSA doesn't mandate a specific number of kits but requires employers to take reasonable precautions for worker protection. Employers may provide multiple kits if multiple at-risk workers are present or if the workplace size warrants quick administration. Employers who wish to order additional naloxone kits will need to source a vendor as purchasing of additional kits is not available through the Ontario Workplace Naloxone Program.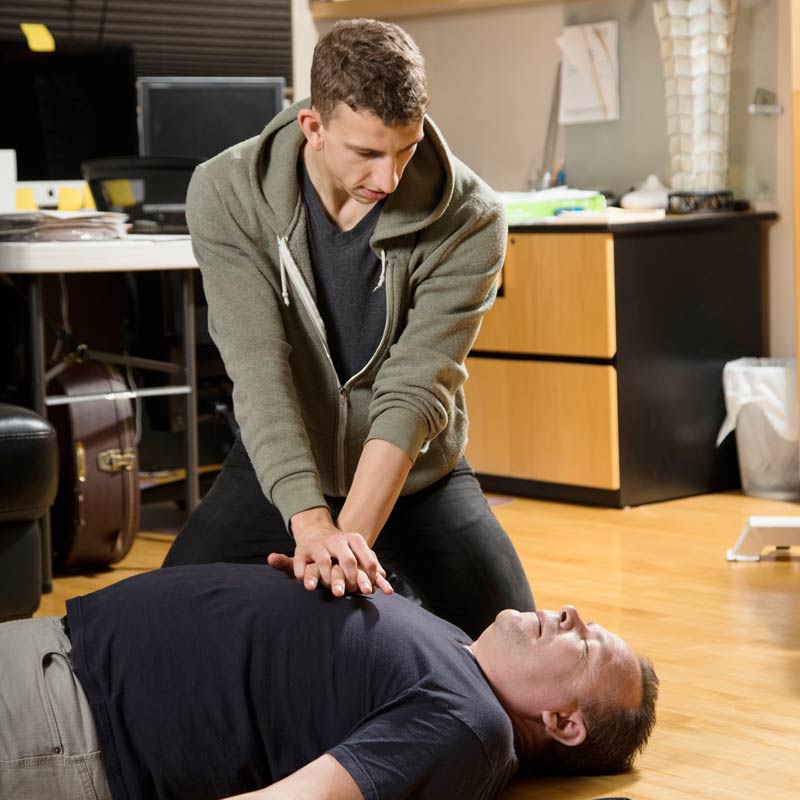 Storing and Maintaining Naloxone Kits in the Ontario Workplace

Employers must promptly replace used or expired single-use items in naloxone kits, adhering to manufacturer instructions for usage, storage, and maintenance.
Stored at room temperature (between 15 and 25°C)
Kept in the kit until needed
Protected from light
Check the expiry dates on the nasal spray device and replace expired naloxone. Take expired or unused kits to Ontario pharmacies for safe disposal. Post names and locations of trained naloxone kit handlers conspicuously near the kit to inform other workers.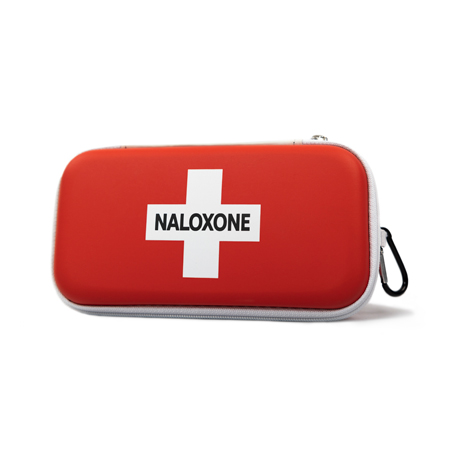 What's Included in the Ontario Workplace Naloxone Kit?

The naloxone kit provided by Canadian Red Cross to each workplace registered in the Ontario Workplace Naloxone Program meets all requirements for Ontario Workplace Naloxone Kits.
Each nasal spray naloxone kit includes the following:
1 hard case (for example, a zippered hard red case with white "naloxone" cross )
2 doses of naloxone hydrochloride intra-nasal spray (4 mg/0.1 ml)
1 one-way rescue breathing barrier.
1 pair of non-latex gloves
1 insert with instructions for administering naloxone (English and French)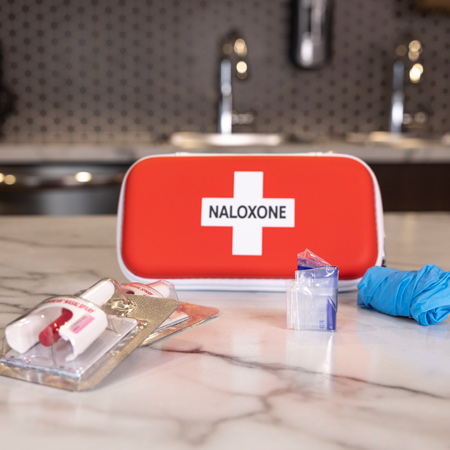 Funding Provided by

This program is funded by the Province of Ontario's Workplace Naloxone Program.